In recent years, it has been possible to observe a fast growth in the interest in products that stimulate hair growth globally. Hair loss has been a topic of increasing awareness, especially by the millennial generation, as they are now facing this condition due to more significant life pressure.
In this context, the HIEE 2 in 1 hair growth comb & face care device is a highlight as it goes beyond just one product and integrates most functions of popular beauty devices on the market. It has two IP6 waterproof heads that can be replaceable depending on the desired treatment, skincare, or hair growth. 
For the hair part, it uses advanced technologies like RF, low-level laser, and infrared LED light (red and blue) to provide scalp care, promote blood circulation and nourish hair follicles to encourage hair rebirth. Furthermore, it uses a 24K gold plate and medical grade 316 stainless steel bristles, so it will not irritate the skin. Another advantage is that as it is in a comb format, it will be easy to separate the hair. The laser and LED wavelengths can direct subcutaneous acts on the dermal papilla and rejuvenate them for blood circulation and hair growth. It also includes a smoothing vibration that helps with blood flow. Results can appear after a few weeks of 10-15 minutes and twice a week of use.
Skincare can be done by replacing the probe for facial rejuvenation and massage. It features deep cleaning, eye care, and skin lifting options as the ultrasonic power deeply exports dirt on the skin surface. The use of ions technology helps stimulate collagen fiber growth, accelerate metabolism, and have anti-aging properties. 
In conclusion, it is a very interesting option as it provides high-tech treatment in all respects while simplifying your beauty routine.
Read Also: New Devices To Upgrade Your Hair Care Routine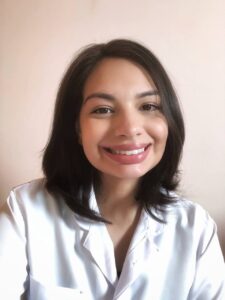 About the Author: MSci Maísa Melo is a Pharmacist and a current PhD student in cosmetic technology, from São Paulo, Brazil. She has earned her master's degree from the University of São Paulo and has been involved with the development, stability, safety and efficacy of cosmetics since 2013. She has specialized in the clinical efficacy of cosmetics by biophysical and skin imaging techniques as well as the use of alternative models to animal testing. Her research work has been published in several scientific journals and book chapters from the field.
To know more about Skincare Devices and Beauty's latest updates, please Like and Follow our Facebook and Instagram accounts…