It is common to feel stressed, alone, and anxious in the daily routine. Although there are many medicines to improve this feeling, there are also other chemical-free alternatives that can help control those emotions. One highlight is the use of weighted blankets that utilizes the power of weight to simulate a feeling of being hugged and helps users to relax or simply provide extra comfort.
The Ms. Bliss Weighted Blanket is one of the best-reviewed products of this type and comes in two formats: with or without aromatherapy. The one with aromatherapy has Lavender and Peppermint scents which are known for their calming properties.
Another exciting feature is that the Ms. Bliss is the only weighted blanket that can be put in either the microwave or the freezer. Temperature changes can also help relieve tension as the uniformly distributed bead filling provides the right amount of weight to keep it warm or cool.
It is made of a premium soft and plush shell and an inner filling of fine-grade and ultra-comfortable unscented grains. This combination was designed carefully to provide the best feelings and is also suitable for sore spots and joints.
To pick a blanket size, it is ideal to think that they should be 10% of your body weight, but lots of adults/kids enjoy anything between 8-20% of their weight. Studies have also shown that weighted blankets can be a complementary therapy for insomnia, sleep, or anxiety issues common in autistic people.
In conclusion, if you're looking to add something new to manage your anxiety, weighted blankets could complement your other treatments.
Read Also: A Deep Muscle Treatment Device Enhances Muscle Recovery And Releases Stress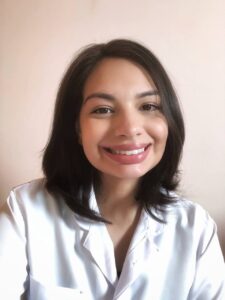 About the Author: MSci Maísa Melo is a Pharmacist and a current PhD student in cosmetic technology, from São Paulo, Brazil. She has earned her master's degree from the University of São Paulo and has been involved with the development, stability, safety and efficacy of cosmetics since 2013. She has specialized in the clinical efficacy of cosmetics by biophysical and skin imaging techniques as well as the use of alternative models to animal testing. Her research work has been published in several scientific journals and book chapters from the field.
To know more about Skincare Devices and Beauty's latest updates, please Like and Follow our Facebook and Instagram accounts…