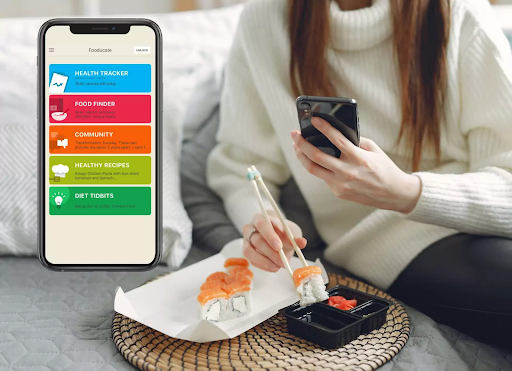 Eating healthy and learning more about the food on your plate are crucial to promoting lifelong healthy eating habits. Professionals are indicated to properly understand and get the right indications of what your body needs. Still, if you want to start on the subject or have a practical way to solve questions, the Fooducate app can be the solution.
The Fooducate app is recommended by doctors, dietitians, fitness trainers, and personal coaches and is designed to empower you to achieve your diet, health, and fitness goals.
One of its features is the nutrition and health tracker. It has the space to organize everything healthy eating, including the quality of calories, count your macros (protein, fats, carbs), analyse your sugar intake, track your sleep, mood, and hunger levels, enter your recipes, and see their nutritional values. Furthermore, it is seamlessly integrated with Apple Health. 
It can also analyse information found in product nutrition panels and ingredient lists. By scanning the products, it is possible to discover all the information that can be hidden by the manufacturers, including the presence of added sugars, artificial sweeteners, trans fats, high fructose corn syrup, etc. 
More good possibilities on the Fooducate app to help with healthy eating are setting the desired weight loss rate, keto diet coach, low-carb advice and carb management, eat to beat diabetes, women's health (pregnancy, lactation, PCOS), low FODMAP diet and many others.

In conclusion, Fooducate makes it easy to eat a balanced and healthy diet. Its goal is to teach you about the products you buy at the grocery store and how to choose the correct item. It is also possible to connect with health professionals and other app users for advice and support.
Also Read:
About the Author: MSci Maísa Melo is a Pharmacist and a current PhD student in cosmetic technology, from São Paulo, Brazil. She has earned her master's degree from the University of São Paulo and has been involved with the development, stability, safety and efficacy of cosmetics since 2013. She has specialized in the clinical efficacy of cosmetics by biophysical and skin imaging techniques as well as the use of alternative models to animal testing. Her research work has been published in several scientific journals and book chapters from the field.
To know more about Skincare Devices and Beauty's latest updates, please Like and Follow our Facebook and Instagram accounts…