Picking the right makeup to do can be a challenge. There are so many options to explore and combine with your items that sometimes we don't know which style would be the best match, especially when it comes to a special event that requires that the makeup matches the outfit. 
With that being said, the app Beauty Mark was created to solve this problem. It features a user-friendly interface that allows users to swipe through features and creates their own look, like a source of inspiration. 
The great thing about it is that it is possible to pick the occasion (glamorous, natural, etc.) and begin building a look by selecting the skin tone (fair to deep) and mixing and matching eye makeup and lipstick options on the model until you find the right combination. The final look will be visible on a virtual model with the same characteristics as you so that the actual result will be closer to the selection on the app.
Furthermore, this app included a technique gallery with "how to" videos or written instructions, like it is a makeup-focused Youtube but condensed. This way, you can obtain the looks chosen before like a pro, as you will have the detailed tutorial beforehand. 
In conclusion, if you like to experiment with new makeup trends or watch beauty tutorials on YouTube, the app Beauty Mark might be perfect for you as it will provide an extensive gallery of different eyes, cheeks, and lips looks and create your favorite face with how-to videos or step-by-step written directions.
Also Read:
Know More About Bellashot Beauty App To Share, Learn And Talk About Beauty
If You Are Using Prescription Medication, Here Are Some Apps That May Help You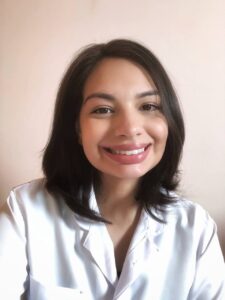 About the Author: MSci Maísa Melo is a Pharmacist and a current PhD student in cosmetic technology, from São Paulo, Brazil. She has earned her master's degree from the University of São Paulo and has been involved with the development, stability, safety and efficacy of cosmetics since 2013. She has specialized in the clinical efficacy of cosmetics by biophysical and skin imaging techniques as well as the use of alternative models to animal testing. Her research work has been published in several scientific journals and book chapters from the field.
To know more about Skincare Devices and Beauty's latest updates, please Like and Follow our Facebook and Instagram accounts…