The brand Foreo is famous for its skincare devices that revolutionized the beauty industry. Now, they have released a toothbrush that combines the Foreo technology with dental care, and here's everything you need to know about it.
The toothbrush is called Issa and is sold as a silicone sonic toothbrush that removes plaque and prevents cavities and tartar buildup. It uses up to 11,000 high-intensity pulsations per minute, creating micro-sweeps that break up and remove plaque.
The difference between regular toothbrushes and the Issa is that they are clinically proven to improve oral hygiene by 140%. This happens because of the innovative Sonic Pulse technology combined with an ultra-hygienic hybrid brush head. Furthermore, the model ISSA 3 is designed to clean it all – teeth, gums, cheeks, and tongue.
The suggested use is to brush your teeth the same way as you would with a manual toothbrush for 2 minutes using circular movements. After that, the brush can be used as a tongue and cheek cleaner to complete your routine.
The silicone and polymer cross-design is the best hygienic choice, offering the highest level of cleanness with bristles that harbor fewer bacteria than conventional nylon. The Foreo toothbrush is also completely waterproof for use in-shower, and features 16 speeds for a customizable clean. It's USB-rechargeable, and one charge lasts a good couple of months. 
In conclusion, the Issa is the ultimate oral hygiene experience as it provides a comfortable gum massage and promotes excellent oral hygiene while preventing gum recession and damage to tooth enamel.
Read Also: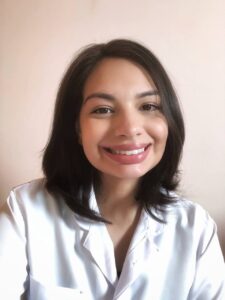 About the Author: MSci Maísa Melo is a Pharmacist and a current PhD student in cosmetic technology, from São Paulo, Brazil. She has earned her master's degree from the University of São Paulo and has been involved with the development, stability, safety and efficacy of cosmetics since 2013. She has specialized in the clinical efficacy of cosmetics by biophysical and skin imaging techniques as well as the use of alternative models to animal testing. Her research work has been published in several scientific journals and book chapters from the field.
To know more about Skincare Devices and Beauty's latest updates, please Like and Follow our Facebook and Instagram accounts…