Getting whiter teeth is one of the most searched dental procedures and can be done in many ways. Along with professional methods performed at clinics, brands are also creating innovative devices that are new and modern ways to whiter teeth at home without wasting time on constant visits to the dentist. 
The equipment GLO Brilliant® White Smile – At Home Teeth Whitening Device by the brand Glo Science is a highlight for being a dentist-invented whitening device that uses heat and light technology to visibly brighten smiles fast and without sensitivity.
The most important ingredients featured in this treatment are Hydrogen Peroxide which is known for removing the appearance of stains safely and effectively and visibly whitening teeth, and Potassium Nitrate, which helps reduce sensitivity. This combination is potent and can bring excellent results when used correctly. 
Moreover, this modern device can visibly whiten teeth up to 12 shades with GLO's patented Illuminating Heat Technology™, known for being the fastest, safest whitening at home. Being the only device using heat technology, GLO Brilliant removes the appearance of stains and discoloration from teeth with results in as little as eight minutes. This product is also formulated without harsh chemicals and is sensitivity-free.
The kit comes with some Teeth Whitening GLO Vials®, which is enough for up to 20 applications, but refills are available too. 
In conclusion, the GLO Brilliant® White Smile device is a great alternative to in-clinic whitening treatments, as it is a modern way to get teeth in the desired color without any sensibility or visits to the dentist's office.  
Read Also: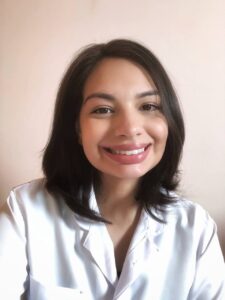 About the Author: MSci Maísa Melo is a Pharmacist and a current PhD student in cosmetic technology, from São Paulo, Brazil. She has earned her master's degree from the University of São Paulo and has been involved with the development, stability, safety and efficacy of cosmetics since 2013. She has specialized in the clinical efficacy of cosmetics by biophysical and skin imaging techniques as well as the use of alternative models to animal testing. Her research work has been published in several scientific journals and book chapters from the field.
To know more about Skincare Devices and Beauty's latest updates, please Like and Follow our Facebook and Instagram accounts…