Excessive use of screens, like working at the computer all day, scrolling social media, and staring at the TV, can cause eye dryness, headaches, and dark circles. Although the best option is to decrease the use of these devices, an eye massager mask can also help you relieve these symptoms. 
The product is called Breo iSee M Eye Massager and is a heat-powered eye mask for deep relaxation. It is a clever combination of heat and air pressure massage that promotes deep relaxation and improves sleep. 
Furthermore, it relieves headaches, eye fatigue, and dryness, as well as brightens dark circles and tired-looking eyes. It includes four treatment modes, and it is possible to play your own music during treatment as it has wireless with app connectivity and Bluetooth. 
It is rechargeable via USB, so there's no worry about replacement batteries; it is always ready to be used again or to pack while you're on the go (it comes with a storage pouch to keep it safe).
To use it is very easy, just find a comfortable seat or lie down and choose your heat temperature and treatment mode. Each session lasts for about ten minutes, and after that, you are ready to go back to the routine or sleep. 
In conclusion, the Breo iSee M Eye Massager is an excellent device for relieving pain and dark circles and relaxing and switching off from the world while using it. You will feel that all tension melts away as the heat pads deliver a warm, being like a spa experience at home.
Also Read:
Combining Jade Stone With High-End Cleansing And Anti-Aging Device
The Combination Of Microcurrent Facial And Hyaluronic Acid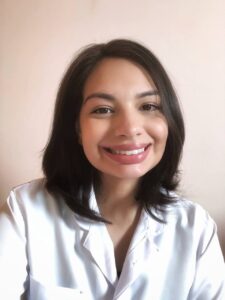 About the Author: MSci Maísa Melo is a Pharmacist and a current PhD student in cosmetic technology, from São Paulo, Brazil. She has earned her master's degree from the University of São Paulo and has been involved with the development, stability, safety and efficacy of cosmetics since 2013. She has specialized in the clinical efficacy of cosmetics by biophysical and skin imaging techniques as well as the use of alternative models to animal testing. Her research work has been published in several scientific journals and book chapters from the field.
To know more about Skincare Devices and Beauty's latest updates, please Like and Follow our Facebook and Instagram accounts…