A micro infusion facial treatment is a beauty technique that works by inserting vital skin-health serums into your face.  With that, it stimulates collagen production and provides various skin benefits. 
One type of facial microinfusion device is the AquaGold, a luxury method to feed and nourish the skin from within. It should be used with a personalized cocktail of substances chosen by your trusted professional, tailored to your personal skin needs for the ultimate skin nourishment. Furthermore, it is a comfortable procedure with no downtime, just short-term redness, meaning it can be done at any time in the routine.  
The Aquagold facial treatment is ideal as a pre-event skin preparation for Brides-to-be, parties, or red-carpet events, making it a Hollywood and A-lister favorite. This micro infusion facial uses twenty 24-carat gold screw thread and fine hair needles to deliver the chosen ingredients for your personal skin goals.
During the procedure, the microinfusion facial device is applied to the skin in a gentle stamping motion to deliver the tailored products to the skin. Ingredients may include hyaluronic acid, vitamins, stem cells, antioxidants, toxins (micro-tox), autologous conditioned plasma, and peptides delivered into the skin as the device creates 1000's micro-infusion sites.
The main benefits obtained with the Aquagold facial device are improving fine lines and wrinkles, smoothing crow's feet, refines pores, targeting pigmentation, acne scarring, dryness, tone, and texture, boosting hydration and luminosity for a glow that lasts up to 4 weeks.
In conclusion, the luxurious micro infusion AquaGold facial can be used either as a part of your monthly skincare routine or as a pre-event skin preparation. The micro-infusion device is a patented gold-plated hair-fine needle system to painlessly deliver custom solutions into the skin at the ideal 600-micron depth that will provide amazing results just a few days after the procedure.
Also Read: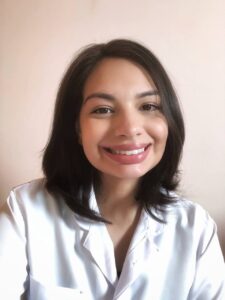 About the Author: MSci Maísa Melo is a Pharmacist and a current PhD student in cosmetic technology, from São Paulo, Brazil. She has earned her master's degree from the University of São Paulo and has been involved with the development, stability, safety and efficacy of cosmetics since 2013. She has specialized in the clinical efficacy of cosmetics by biophysical and skin imaging techniques as well as the use of alternative models to animal testing. Her research work has been published in several scientific journals and book chapters from the field.
To know more about Skincare Devices and Beauty's latest updates, please Like and Follow our Facebook and Instagram accounts…