The world of skincare tools is infinite, and the latest trend is investing in a special face ball, but why should you consider it?
A face ball is a small ball made of PVC and free from harmful chemicals such as phthalates, latex, lead, and BPA. The main goal of using this ball is to improve the skin's visible fitness by visibly enhancing flexibility, tone, and strength while promoting micro-circulation. All of this will result in a glowing look as it is good for loss of firmness, anti-aging, and improving dullness and uneven texture. 
It works because this special face ball combines lymphatic and lifting moves to help detoxify congested skin, reduce eye puffiness, and relieve jaw line tension to improve muscle tone. Furthermore, the stretches act as a warm-up and visibly relax the facial scaffolding.
Users say that it works so well that they could feel the tension released in a way that is not experienced with rollers or face cups, helping even with headaches. It is mainly sold by the brand FaceGym by the name of Face Ball Tension Release Tool. 
It can also be sold in a Full Face Sculpt Kit – 14-Day Challenge that includes the ball plus a few products like Electro-Lite Energizing + Brightening Face Cleanser Face Coach Lifting Q10 + Mastic Tree Enzymatically Activated Face Oil, and Supreme Restructure Firming EGF Collagen Boosting Moisturizer. These products must be applied in the correct order and, in this kit, are paired with a series of facial exercises for enhanced efficacy.
In conclusion, a special face ball is a very interesting skincare tool to be considered as it is an easy and hypoallergenic way to stimulate your complexion, relax muscles and look gorgeous!
Read Also: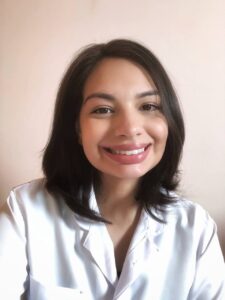 About the Author: MSci Maísa Melo is a Pharmacist and a current PhD student in cosmetic technology, from São Paulo, Brazil. She has earned her master's degree from the University of São Paulo and has been involved with the development, stability, safety and efficacy of cosmetics since 2013. She has specialized in the clinical efficacy of cosmetics by biophysical and skin imaging techniques as well as the use of alternative models to animal testing. Her research work has been published in several scientific journals and book chapters from the field.
To know more about Skincare Devices and Beauty's latest updates, please Like and Follow our Facebook and Instagram accounts…