We all know how it feels to wake up tired and have a puffy face which will tell everyone that your night of sleep was not that great. This problem can be solved by using a facial ice roller in the morning, as they are known for giving a de-puffed and lifted effect after use. The use of rollers also refines pores and relieves headaches and migraines.
This happens because face rollers stimulate the lymphatic system and massage the face, helping eliminate puffiness and toxins and reducing muscle tension. When the tool is cold, there are extra advantages, as the cooling action constricts blood vessels, which leaves skin looking tighter and temporarily decreasing redness, making for an overall fresher and brighter appearance.
There are many options of ice rollers for face available in the market with the same function but with different designs and ways to use them. Finding your favorite is important to successfully add this step to your skincare routine, making it fun and practical. Here are some options:
The Aceology Ice Globe Facial Massager is a popular option that includes two massagers, so it is possible to use both simultaneously and make the process even quicker. Another great difference is that the Ice Globes stay chill for around 10 minutes after taking them out of the freezer due to the special liquid inside. 
Another option is the Esarora Ice Roller which is more budget-friendly and will have effects beyond skincare, including helping relieve migraine and sinus pain. It comes in various colors and is said by customers to roll over the face during use easily. 
Finally, the BeautyBio Cryo Roller looks like a jade roller but is made of professional-grade stainless steel that can chill skin to 45 degrees Fahrenheit, which is the best temperature to obtain the de-puffing and circulation-boosting benefits. Furthermore, it is naturally cold on its own and recommended in the community. 
Read Also: The Best Way To Do Blackhead Extraction
To know more about Skincare Devices and Beauty's latest updates, please Like and Follow our Facebook and Instagram accounts…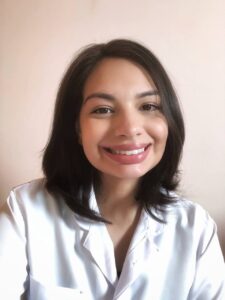 About the Author: MSci Maísa Melo is a Pharmacist and a current PhD student in cosmetic technology, from São Paulo, Brazil. She has earned her master's degree from the University of São Paulo and has been involved with the development, stability, safety and efficacy of cosmetics since 2013. She has specialized in the clinical efficacy of cosmetics by biophysical and skin imaging techniques as well as the use of alternative models to animal testing. Her research work has been published in several scientific journals and book chapters from the field.