The use of AI-Created Cosmetics (artificial intelligence) devices are getting more frequent. They create a whole new world of possibilities for beauty lovers, including the fast creation of new products. 
In this context, L'oreal, one of the most famous cosmetic brands in the world, created the Perso by L'Oréal, a 3-in-1 device for personalized beauty powered by artificial intelligence. The Perso device has the ability to create skincare, liquid lipstick, and foundation on demand. Plus, as it gets to know your preferences, it will get smarter over time, making the use even more effortless.
It works by using a specific app that applies L'Oréal's ModiFace technology to evaluate your skin. Then it assesses essential environmental factors like pollution, air quality, and humidity. The device even considers the top skincare concerns and priorities that you can list beforehand.
Next, it engages its patented three-cartridge system, using advanced robotics to dispense the perfect formula. Depending on the cartridges you are using, different types of products will be created, always controlled by the app.
If you struggle to find the perfect foundation shade, the Perso can create a personalized option using its precise shade finder tool. Want an ideal signature lipstick? Perso can do that too. It can also be done by color matching so that you can coordinate your lip with the dress, shoes, or the latest trends.
In conclusion, if you are looking for infinite options in your beauty routine, the Perso by L'oreal gadget is the solution. Make it more intelligent with this AI beauty device with L'Oréal's unparalleled expertise and quality. AI-Created Cosmetics 
Also Read: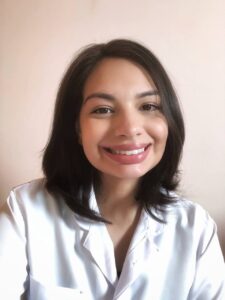 About the Author: MSci Maísa Melo is a Pharmacist and a current PhD student in cosmetic technology, from São Paulo, Brazil. She has earned her master's degree from the University of São Paulo and has been involved with the development, stability, safety and efficacy of cosmetics since 2013. She has specialized in the clinical efficacy of cosmetics by biophysical and skin imaging techniques as well as the use of alternative models to animal testing. Her research work has been published in several scientific journals and book chapters from the field.
To know more about Skincare Devices and Beauty's latest updates, please Like and Follow our Facebook and Instagram accounts…