The cleansing step in a skincare routine is very important and can be done in many different ways. In this context, many brands have been creating tools to modernize this process and make it more dynamic and a source of fun.
One example of this is the Revlon Double-Sided Facial Cleansing Brush, which is a dual-sided face brush that tackles skin dullness. It contains large, bendy bristles that create a deep clean while also containing an exfoliating pad that can lead to radiant skin.
This brush presents 2 surfaces, one soft and voluminous and another scrubby, for a double deep clean. These bristles are bendy and are able to gently polish while lifting away dirt, oil, and makeup. Furthermore, an exfoliating pad loosens flakes (also known as dead skin cells), soothes rough patches, and produces a noticeable glow after use. 
It can also be used by all skin types as the tool is made of a latex-free material, being a silicone brush suitable even for sensitive skin and gentle enough for everyday use.
Using it is also very simple. First, it is necessary to put a few drops of a liquid skin cleanser directly onto the brush and add water. After that, just massage the large bristles over the face in circular motions to remove all dirt and the rest of the cosmetics that might be on the surface. Then, switch to the exfoliating pad to dislodge flakes and smooth rough patches. Finally, rinse the brush clean and allow it to air dry. 
In conclusion, this is a great and practical tool to properly clean the skin by doing two steps with only one object that is safe and gentle for the face. 
Read Also: What Is the Correct Way to Use a Facial Brush?
To know more about Skincare Devices and Beauty's latest updates, please Like and Follow our Facebook and Instagram accounts…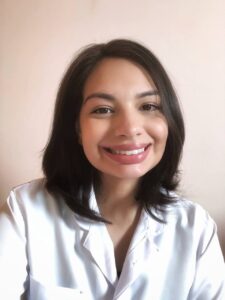 About the Author: MSci Maísa Melo is a Pharmacist and a current PhD student in cosmetic technology, from São Paulo, Brazil. She has earned her master's degree from the University of São Paulo and has been involved with the development, stability, safety and efficacy of cosmetics since 2013. She has specialized in the clinical efficacy of cosmetics by biophysical and skin imaging techniques as well as the use of alternative models to animal testing. Her research work has been published in several scientific journals and book chapters from the field.