CryoPen™ is a state of the art treatment that uses extreme cold, or CryoPen cryotherapy, to painlessly and safely destroy unwanted, benign and superficial lesions on the surface of the skin, such as warts, skin tags, verrucae, milia, cherry angiomas, scars, and resistant hyperpigmentation.
It has four main benefits over other treatments;
CryoPen therapy takes far less time; with treatment sessions lasting less than 2 minutes
No anaesthesia is required and it is virtually painless
It is one of the least invasive lesion treatments in the market
It is used in the treatment of virtually any benign skin lesion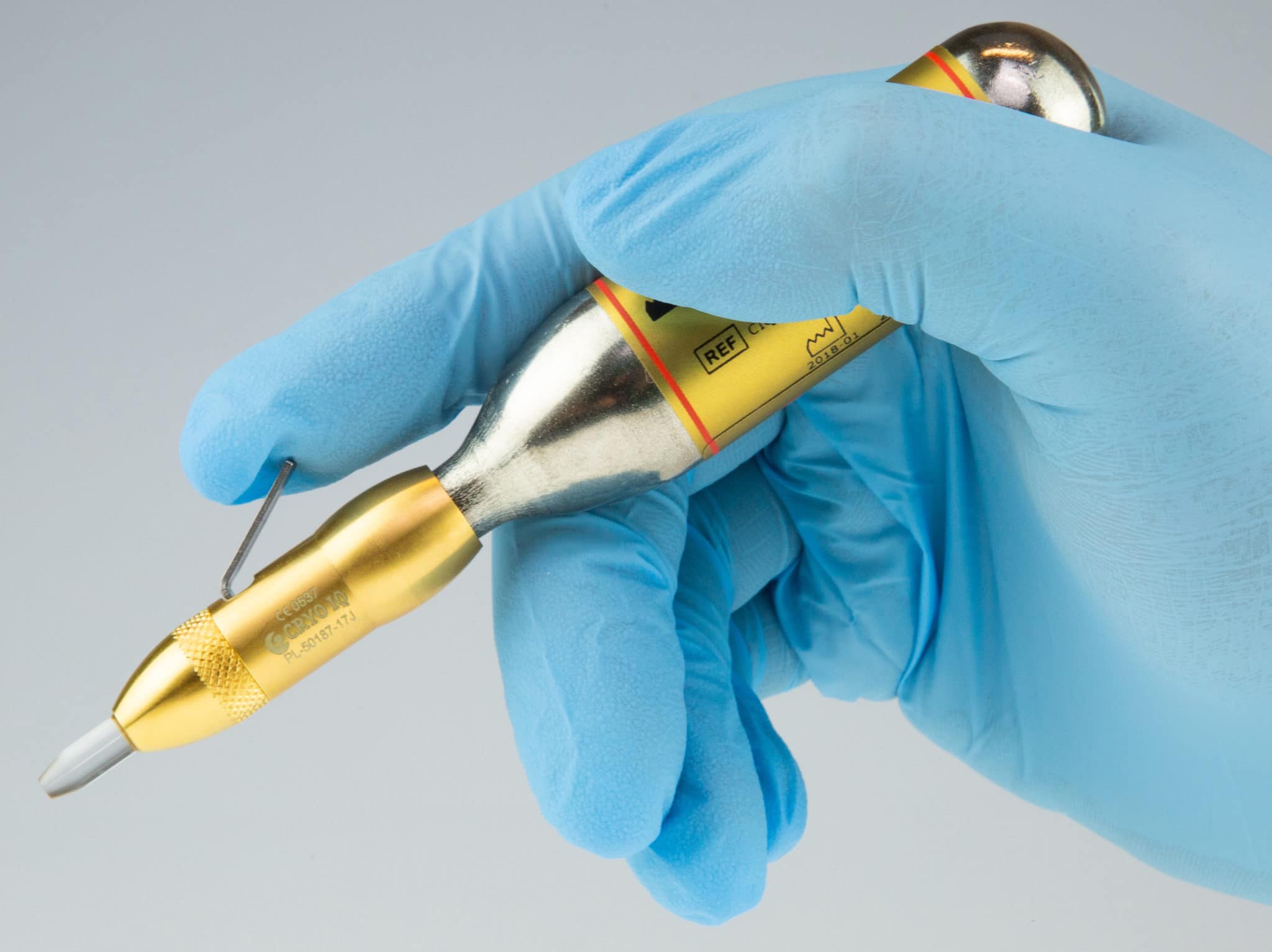 CryoPen is designed and developed by a Belgian company, HO Equipment, and distributed in the United Kingdom by Cryosthetics (CryoskinCare Ltd). (In America and Canada it is known as CryoProbe). It is used for treatments in the specialities of dermatology, podiatry, medical aesthetics and gynaecology/urology.
HOW DOES IT WORK?
CryoPen therapy is a medical procedure that involves the application of nitrous oxide gas ejected under high pressure on to the skin. The gas is very cold which helps to freeze and destroy any benign lesions.
During the application, the tip of the CryoPen reaches -89°C. The reason for this is to create a thermal shock at the region where the gas is pointed by causing a rapid drop in temperatures. The temperature drop has the effect of crystallising the fluid contents of the targeted cells, turning them into ice shards, resulting in the destruction of skin lesions as the membrane surrounding the treated cells is ruptured and destroyed.
The penetration of the cold is approximately 1mm per 5 seconds of treatment, so a 2mm sized lesion would take 10 seconds of nitrous oxide gas to treat.
During treatment, you may see a frost or ice-field on top of the lesion. This shouldn't cause any worry as the frost usually goes away within a few seconds. A common technique called freeze-thaw-freeze can sometimes be used to freeze, then defrost a frozen lesion, and then freeze it again. Here, the frozen lesion is allowed to rest for 30 seconds and then a second treatment applied whereby the tissue will freeze faster second time around and destruction of the lesion is more guaranteed.
Read more: consultingroom.com
To know more about Skincare Devices and Beauty's latest updates, please Like and Follow our Facebook and Instagram accounts…
Read also: Hydrafacials & LED Therapy in Arlington & Colleyville