Taking care of the lip skin is a very important thing that is often not taken care of. It is not included in the skincare rituals and can be the source of many wrinkles and saggy skin. 
In this context, the brand CurrentBody created the first targeted lip anti-aging LED device, which is designed as a lip perfector that, when used for just 3 minutes per day, lifts feather lines, smoker's lines, smile lines, sad lines, increases fullness and evens out lip tone for more youthful lip color. Furthermore, lip perfector can be used for more than its antiaging, simply by anyone who wants plumper, fuller, and even-toned lips.
The tool is called CurrentBody Skin LED Lip Perfector and works by the included four wavelengths of LED (light-emitting diode) light therapy across 56 individual bulbs that will help the user achieve a fuller lip with fewer lines and wrinkles in just a few weeks. Another benefit comes to people with lip fillers, as the use of this device may enhance their effect with both instant and longer-term effects.
In more detail, the red and deep-red LED wavelengths penetrate the skin's lower layers, where the light breaks down nitrous oxide that will block vital nutrients, one of the causes of older-looking lips. They also help produce more ATP (adenosine triphosphate), a necessary substance for cell renewal. CurrentBody is rechargeable and can be used daily.
In conclusion, the CurrentBody Skin LED Lip Perfector is an excellent choice for people looking for improvements in smile lines, marionette lines, deflated lips, and lines caused by smoking. CurrentBody Skin LED Lip Perfector is easy to use, with only three minutes of daily sessions to get visible results after a few weeks of use. 
Read Also: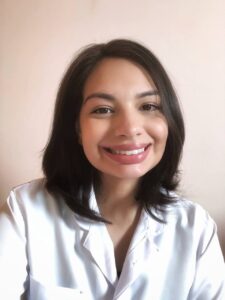 About the Author: MSci Maísa Melo is a Pharmacist and a current PhD student in cosmetic technology, from São Paulo, Brazil. She has earned her master's degree from the University of São Paulo and has been involved with the development, stability, safety and efficacy of cosmetics since 2013. She has specialized in the clinical efficacy of cosmetics by biophysical and skin imaging techniques as well as the use of alternative models to animal testing. Her research work has been published in several scientific journals and book chapters from the field.
To know more about Skincare Devices and Beauty's latest updates, please Like and Follow our Facebook and Instagram accounts…