Lipstick colors are infinite, and somehow they still let the consumers want more, making it diverse with each new collection. The desire for exclusivity can also be achieved with the Rouge Sur Mesure Custom Lip Color Creator.
This device created by the high-end brand Yves Saint Laurent is composed of a machine that should be combined with different sets of cartridges. They are currently available in four color sets: pink, orange, red, and nude. For every color set, there are three different shades packed in cartridges, which according to the desired color will dispense a certain amount of each so that they can be mixed.
The colors can be created through the Rouge Sur Mesure app in three different ways. The first one, called the Shade Palette set, opens the smartphone's front-facing camera while displaying a color wheel so users can virtually try on different shades and pick a tint that pleases them the most. The second option is the Shade Match which opens the device's back camera so that users can point to a color and create an exact or similar lipstick to that tone. It is also possible to upload a photo and choose a color. And lastly, the Shade Stylist is made to help pick a matching lip shade to outfits, as the users take or upload a photo of it. All the chosen colors can be saved to the Rouge Sur Mesure app as well for future use.
After creation, the product will come through the compact where these can be mixed to create the desired shade of velvet matte lipstick. The compact also has a mirror and can be detached to be used anywhere on the go. A magnetic brush is also included. 
In conclusion, this new technology is an exciting innovation for makeup market where there will be many new possibilities for lipstick colors with only one device.
Read also: What You Need To Know About The Electric Makeup Brush Cleaner
To know more about Skincare Devices and Beauty's latest updates, please Like and Follow our Facebook and Instagram accounts…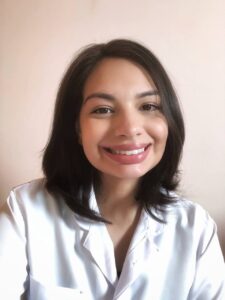 About the Author: MSci Maísa Melo is a Pharmacist and a current PhD student in cosmetic technology, from São Paulo, Brazil. She has earned her master's degree from the University of São Paulo and has been involved with the development, stability, safety and efficacy of cosmetics since 2013. She has specialized in the clinical efficacy of cosmetics by biophysical and skin imaging techniques as well as the use of alternative models to animal testing. Her research work has been published in several scientific journals and book chapters from the field.