There is currently an infinity of electronic skin care devices, each with its own features and benefits. However, some devices try to incorporate more than one feature in one, creating a complete experience for the user.
This is the case of the Vanav UP5 Skincare system, which has five benefits in only one device. Using the Vanav UP5 in sessions of just 5 minutes a day, the results will appear in a safe and painless manner, reducing the damage caused by the sun, wrinkles, and blemishes and improving hydration.
More specifically, it is a powerful combination of 3D vibration and five skincare modes of galvanic ions. The five skincare modes are:
Cleansing mode: Create an ionized deep cleansing care.
Eye-zone mode:

Specific care for this sensitive area of the face.

Facial mode:

Works on skin hydration and nutritional benefits.

Lifting mode:

To increase skin firmness.

Vitamin C mode:

For enhanced skin radiance.
Furthermore, the 3D vibration can be defined by proprietary oscillator technology that converts sound waves into vibrations that reach deeper layers of the skin for rejuvenation. The galvanic ions change the electrical environment of the skin using the potential difference to help active ingredients or ionized cosmetic essence reach deep into the skin.
An enjoyable extra feature is music therapy, in which the devices create a 3D massage to the unique wave of the music of choice.
In conclusion, the Vanav UP5 is a unique device to enjoy professional aesthetic skin care at home, with complete modes that will please everyone in the family. 
Read also: An Award-Winning Cleansing Device To Improve Your Skincare Routine
To know more about Skincare Devices and Beauty's latest updates, please Like and Follow our Facebook and Instagram accounts…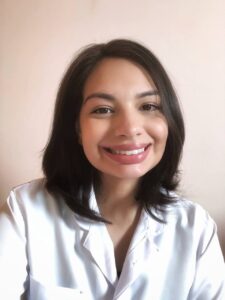 About the Author: MSci Maísa Melo is a Pharmacist and a current PhD student in cosmetic technology, from São Paulo, Brazil. She has earned her master's degree from the University of São Paulo and has been involved with the development, stability, safety and efficacy of cosmetics since 2013. She has specialized in the clinical efficacy of cosmetics by biophysical and skin imaging techniques as well as the use of alternative models to animal testing. Her research work has been published in several scientific journals and book chapters from the field.