One of the most popular complaints in the dermatological and surgical office is the presence of unwanted bingo wings, jowls, eye bags, crow's feet, and sagging tum. Various procedures, including invasive ones, can solve these features.  face sculpting
For those who are not brave enough to face an esthetic surgery, devices like the CLOUD NINE ReVibe can be a great alternative as they provide anti-aging, anti-acne, firming, and tension-reducing treatments all from one device. Although it is an electronic device, the shape can be familiar, as it is based on the Gua Sha tool from Chinese medicine, very commonly found on the Jade stone.
This product is complete and has four treatment modes: heat + vibe, heat + red light, cooling + vibe, and cooling + blue light. The massage itself helps to loosen inflammation, tension and reduce fine lines. The red light is famous for its anti-aging properties and can enhance collagen production. Furthermore, the cooling tightens pores and brightens the complexion, while blue light prevents acne-causing bacteria. 
Its use should be done daily but will only take a few minutes in each area for a lifted look on the face and body. It is also recommended to use it after a favorite serum or moisturizer in upwards and outwards movements on the skin, including a few strokes per area.
In conclusion, the CLOUD NINE ReVibe is an excellent device that is easy to use on whatever skin concern you have and that with just a few weeks of daily use, notice skin is more lifted, plumped, and even textured.
Read Also: What Can I Expect From Sculpting Devices For The Face?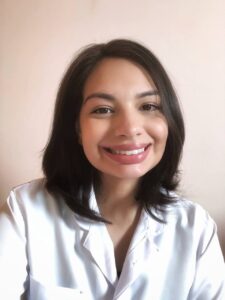 About the Author: MSci Maísa Melo is a Pharmacist and a current PhD student in cosmetic technology, from São Paulo, Brazil. She has earned her master's degree from the University of São Paulo and has been involved with the development, stability, safety and efficacy of cosmetics since 2013. She has specialized in the clinical efficacy of cosmetics by biophysical and skin imaging techniques as well as the use of alternative models to animal testing. Her research work has been published in several scientific journals and book chapters from the field.
To know more about Skincare Devices and Beauty's latest updates, please Like and Follow our Facebook and Instagram accounts…