When we hear avocado our brains immediately think, yummy!!! Like who doesn't love avocados? Yep, almost everyone. Avocados are one of the most healthy fruits you can consume, it does wonders for your body, and therefore it's amazing for your face as well. We did a meticulous search and found the 10 best avocado face mask recipes that will leave your face looking like a million bucks!!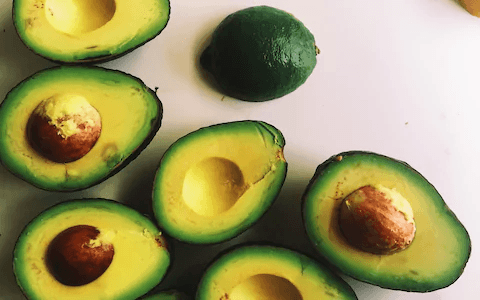 Avocado Benefits for the Face
Avocados are great for your entire body, we are talking about inside and out, hair, skin and therefore, your face. Consuming avocados is a smart choice, now imagine what it can do when you apply it to your face – yes a lot! Let's take a look at some of the benefits of applying an avocado face mask.
Anti–aging: rich in vitamin E, avocados helps reduce fine lines and wrinkles. The use of avocado oil boosts collagen production making your skin look plump and supple.
Natural sunscreen: avocados contain a high amount of sun-protective properties that protect you from UVB and UVA rays. Sunburnt skin? A bit of avocado oil can soothe it just fine.
Moisturizer: Avocado oils are the best at protecting skin against harmful environmental factors like UV rays and deeply hydrating dry skin because of their high content of vitamins A, D, and E.
Soothing: Their monounsaturated fats have anti-inflammatory properties that can calm and soothe irritated skin.
Acne fighter: Due to their high content in lauric acid, which is rich in antimicrobial and anti-inflammatory properties, they can help fight acne.
Exfoliator: rich in antioxidants and minerals, avocados can unclog pores, remove dead skin cells, and exfoliate the skin well.
With all of these benefits, avocados have proven to be THE fruit to consume and use. Now imagine mixing avocados with other great ingredients that also are wonderful for your face!
Best Avocado Face Masks
#1. Homemade Avocado Face Mask for Dry Skin
You'll need:
1/4 ripe avocado
1 tbsp cocoa powder
1 tbsp honey
In a small bowl, mash the avocado until smooth. Once the avocado is well mashed, add in cocoa powder and honey and mix well. Then apply to a clean face and massage in slow circular motions all over face and neck. Leave on for 30 minutes and rinse, pat dry and follow up with a moisturizer.
#2. Avocado Face Mask for Oily Skin
You'll need:
a ripe avocado (small/medium sized)
1 egg white
1 tsp lemon juice OR 1/2 tsp organic apple cider vinegar
Place all ingredients in a blender or food processor to make a nice, smooth, easy to apply the paste. Apply the mask to a cleansed face, and lay back and relax for about 20 minutes. Wash the mask off with lukewarm water and pat dry.
#3. DIY Mango Avocado Face Mask
You'll Need:
two tbsp honey
2 tbsp avocado
2 tbsp olive oil
1 mango, peeled and de-seeded
Place all ingredients in a blender or food processor then mix until the mask has formed a paste-like substance. Apply all over the face and neck and leave on for 30 minutes. Rinse off with cold water and pat dry.
#4. Homemade Turmeric Avocado Face Mask
You'll need:
1/4 tsp turmeric powder
1 tbsp avocado
1 tsp yogurt (preferably plain, organic yogurt, such as Greek yogurt)
1-2 drops of your favorite essential oil (optional)
Mash the avocado using a fork and in a medium bowl, combine your mashed avocado with the rest of your ingredients. Stir mixture very well. Apply the mask all over your face and neck using slow, circular motions. Leave mask on for 10-15 minutes, rinse off with cold water and pat dry.