It comes as no surprise that turmeric is not just a superfood for your body. It also acts as a super ingredient for your skin. This all natural ingredient can help with a multitude of skin conditions from treating acne, to helping fade scars, and even tighten the skin. Let's look a little more closely at the skin  benefits of turmeric.
Fights Breakouts: Those who suffer from acne as well as the occasionally breakout, can count on turmeric powder. Turmeric contains antibacterial and antimicrobial properties which fight off acne breakouts, and also prevent them. Treat acne once and for all with turmeric!
Reduces Swelling: Because it contains anti-inflammatory properties, turmeric can also help with swelling. This includes pustules and cystic acne. Mask a simple turmeric mask by combining water and turmeric powder and apply directly to the affected area. Be sure to leave on for 15 minutes for best results.
Fades Scars & Spots: Acne scars, dark spots, age spots, and sun spots can all be treated with a little patience and some turmeric powder. Use any one of the recipes below and apply directly to the scar or spot on your skin. Make sure that the skin is clear of makeup and cleansed before application. Leave on for 10 to 15 minutes and rinse off. Pat dry, and repeat several times a week for at least one or two months. Consistency is key when trying to get rid of scars and spots!
Reduces Wrinkles: Applying a turmeric mask two or three times a week for 30 minutes can not only keep wrinkles and fine lines at bay, but can also get rid of them. Turmeric contains properties which help to tighten and brighten the skin.
Exfoliates: Although it doesn't have any granules, turmeric powder also gently exfoliates the skin. This will leave skin softer, younger looking, and brighter. Exfoliating is an important part of your skin care regimen, because it gets rid of dead skin cells to reveal newer, softer skin. Exfoliate once a week if you have dry or sensitive skin, and twice a week for oily and acne prone skin.
Hydrates: Surprisingly, turmeric can also hydrate the skin by getting rid of the old top layer of dead skin cells and revitalizing the skin. It also helps protect the skin from further damage.
Turmeric Face Masks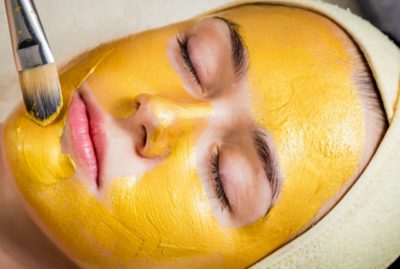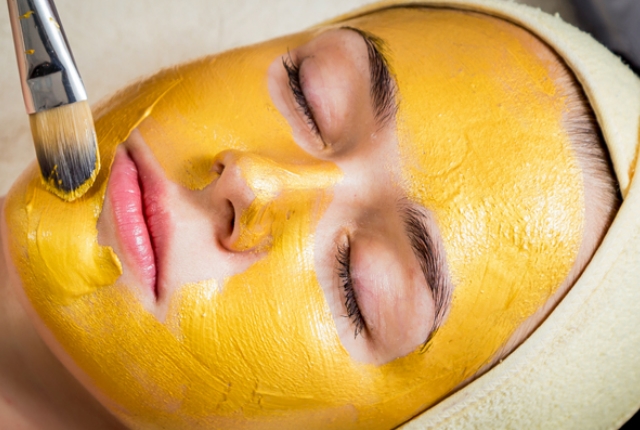 #1. Turmeric & Lemon Face Mask
1 tbsp turmeric
2 tbsp freshly squeeze lemon juice
Mix both ingredients together and stir until well combined. Apply to a clean face and let sit for 15-20 minutes. Rinse with warm water and pat dry.
Why it Works: Lemons have powerful astringent properties and will shrink pores, all while naturally bleaching acne scars and dark spots. Turmeric works to prevent excess oil and breakouts.
Also read  Top 10 Tomato Face Mask Recipes for All Skin Types